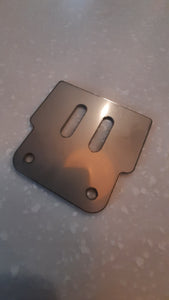 All prices are shown in NZ Dollars
For use with Sea-doo Spark with or without boarding step, but must have boarding step provision if no boarding step is installed.
Stainless steel bracket to provide an option for you to mount your transducer onto a Sea-Doo Spark transom. Slotted holes for height adjustment, this bracket is designed to be installed  in behind the boarding step, with the boarding step bolts going through the two slotted holes.
Simply undo the 2 boarding step bolts, slide the bracket in behind the boarding step and reinstall the 2 bolts through the boarding step. Then install your transducer onto the bracket.
Made from 316 marine grade stainless steel.