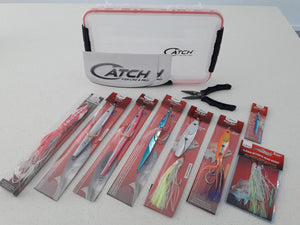 Targetting Kingfish with jigs is an extremely fun way to fish, and probably one of my favourites!
Free shipping on all Catch Fishing products in New Zealand!
The Kingfish value pack gives you a huge variety of larger jigs from Catch including Betabugs, Long John Slider, Double Trouble, Squidwings and the Joker in a range of weights, which covers all your mechanical jigging needs for shallow reefs or deep water pins. Each jig has it's own unique action, so there is bound to be atleast one that will entice a bite on any particular day with weights ranging from 100g to 300g for any water depth. The pack even includes a Tungsten 32g micro jig for when the fish just won't take a large jig, and a 200g Squidwings for when trolling. Another must have when jigging for Kingfish is a set of split ring pliers for changing jigs, which also comes in the pack!
Everything comes packed in a tackle box to keep things organised.
Note : Colours may vary slightly from pictured.