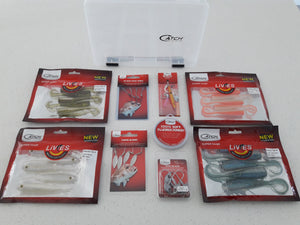 Sometimes when the fishing is tough or when fishing shallow water it is worth changing from metal lures to softbaits. This pack contains everything you need to go softbaiting or shallow water fishing, just add a rod & reel!
Free shipping on all Catch Fishing products in New Zealand!
It includes...
1x pack of 5 Stingaz jig heads
4x packs of various size/colour/style softbaits
1x Reel of 20lb flourocarbon leader
1x pack of Stingaz assist hooks
1x pack of Tuning blades
1x microjig
+ tackle box to keep things organised
The life like action of the Catch Fishing Livies softbaits can sometimes make the difference when the fishing is slow. The Stingaz jigheads with the 2nd attachment point enables various additions to the jighead to be added like tuning blades or Kabura skirts, experiment to see what works for you!
Note : Colours may vary slightly from pictured