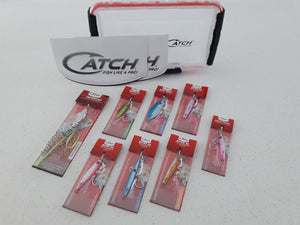 When fish are feeding on smaller food, or just aren't in the mood to eat, sometimes giving them an offering of a bite sized snack can be the trick to catching.
Free shipping on all Catch Fishing products in New Zealand!
This pack contains 8x micro jigs in various styles, colours and weights.
Each jig has it's own specialty and are made from various materials including Zinc, Lead, and Tungsten giving good shallow water hang time for the lightweight Zinc jigs and deep water fishing ability with the dense Tungsten jigs (being 1.7 times denser than lead!) and lead jigs being somewhere inbetween the two, giving you a very versatile pack of microjigs for every situation!
Comes in a tackle box to keep everything organised.
Note : Colours may vary slightly from pictured.