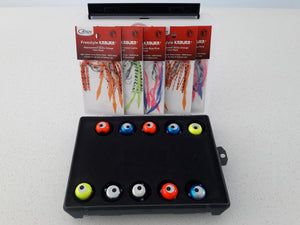 One of the easiest to fish lures available, the Catch Freestyle Kabura is the perfect lure to use when the fishing is slow, the bouyant skirts have a lifelike motion in the water with a super slow retrieve or even set in the rod holder near the bottom while you fish a more active lure at the same time. The perfect lure to give somebody who is new to lure fishing.
Free shipping on all Catch Fishing products in New Zealand!
This pack includes 10 Freestyle Kabura heads in popular colours and the most versatile weight of 80 grams, with 10 skirts/hooks to suit in various colours enabling any colour combination you choose. In a purpose built tackle box to keep the heads seperated to avoid paint chipping while not in use,
Suitable for fishing anywhere from 20m to 70m deep, these lures are dynamite for Snapper, Kingfish and many other species like Gurnard and Trevally.
Note : colours may vary slightly from pictured.