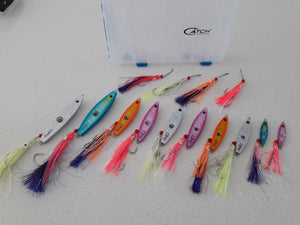 The Betabug has been around a long time and it is no stranger to catching Snapper! A fluttering descent with a skirt that pulses in the water makes this tried and tested jig one of the best for Snapper fishing.
Free shipping on all Catch Fishing products in New Zealand!
The pack comes with 10 betabug lures in various colours 2x 200g, 2x 100g, 2x 80g 2x 60g, 2x 20g & an additional 4 replacement skirts/hooks, all in a tackle box to keep jigs seperated and in good condition while in storage.
The various weights in this pack enable you to fish a wide range of water depths from 10m with the 20g up to 100m and deeper with the 200g, just tie on whichever weight you need to get your jig down to where the fish are.
A slow jigging style near the bottom is all that is needed for these to target Snapper, but the heavier weights can also be worked with a faster mechanical jigging style if you are targetting Kingfish.
Note : Colours may vary slightly from pictured.